Special Reg Sign Project
New Special Regulations Sign Project
A collaborative effort with the Forest Service for new special regulation signage at  five trail heads to the Kern and Little Kern rivers produced two new designs.   The current signage at Johnsondale Bridge were designed by club members from the Kern River Fly Fishers and the SSFFC.  The new signs still incorporate the previous design, including the Spanish text and map, but will feature the Native Kern River Rainbow as part of an education effort to the general public.
The signs are gel coat made like those used in National Parks. The SSFFC donated $3,000 towards the cost with the Forest Service paying an additional $2,000.   The Forks of the Kern (FOTK) location also will get new angler survey boxes provided by the DFG and the old sign stanchions with their ancient posters will be replaced with our design and  wilderness ethics information.  The biggest achievement is the addition of a new sign location in the upper FOTK parking lot where the unofficial "user made' trail resides.  Hikers will not be able to miss the new location.
Johnsondale Bridge Sign, two locations.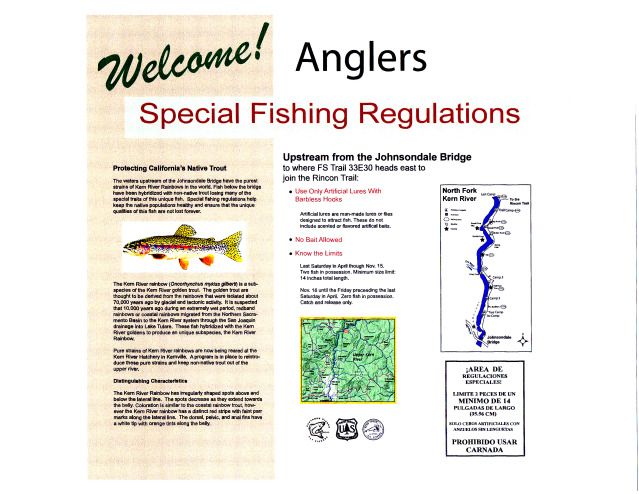 FOTK, Jerkey, Click, Lewis, and Grey Meadow trailhead sign.